Sorry for the delay in posting. I had originally planned to post over the weekend with all of my undies from the weekend, but Sunday was a flight day, and I'm overseas. I got involved in other things yesterday…and now I've got a few days of catching up to do to get you all of my underwear over the last few days.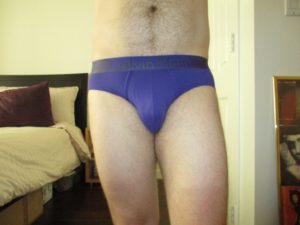 I had these purple Calvin Klein briefs for my Saturday…my other half bought them for me and bought himself a matching pair of trunks…not bad.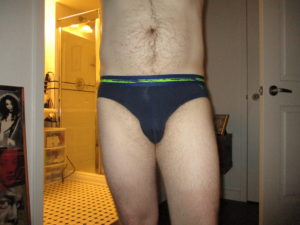 For Sunday, my flight day, I wore this navy pair of Andrew Christian Basix briefs. They are not that expensive, they are very reasonably priced and they are worth the investment if you're thinking about a pair from Andrew Christian. I am not as big a fan of this line as I am of some of his others, but a great overall pair of briefs.
Monday – my first full day in London saw me in these royal Andrew Christian Vibe briefs. I don't know which variety of Vibe they are…they are a smooth and sexy feeling pair and I think it's the athletic variety of Vibe.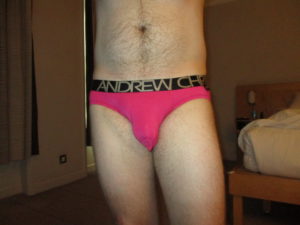 Today I'm in these bright pink pair of Andrew Christian briefs from their Almost Naked line. Probably my favourite line from Andrew Christian. They'll do me well with all of the running around that I have to do today…some for fun and some for work.