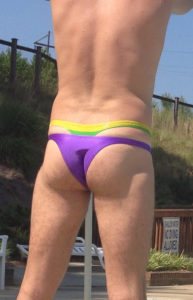 Lots of guest bulges this week…found more in the email inbox that hadn't been posted, with apologies to all my guest bulges! Trying to catch up! Here we've got BikiniCouple – or at least him making his guest bulge debut! We posed the standard questions to him and here's how we responded and just a few of the pics I pulled from his flickr postings to showcase here. Hope that you enjoy him!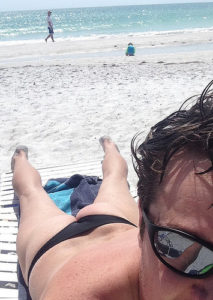 The basics:
How old are you? 34
How do you identify – gay, bi, straight? straight
Single, dating, married? married for 7 years
How big is your endowment – cut or uncut? I am Jewish!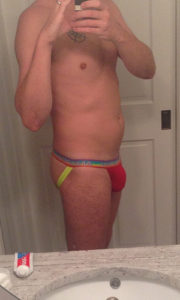 More advanced questions:  
Though I am more into Swimwear, I also love sexy underwear.  Stay tuned.  Maybe you'll hear about my swimwear adventures in future posts!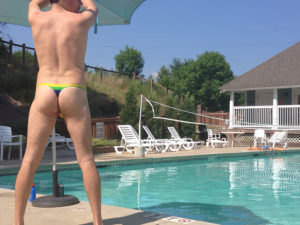 What got you into underwear? The variety of styles.  When I first started branching away from boxers, I dabbled in trying on different types of female underwear because that is all the was available at the local store. My first preference were for string sided bikinis and later thongs.  And my favorite material was satin!
What style of underwear do you usually wear and why?  I wear thongs or small bikinis everyday. My favorite brands of thongs are Doreanse and Andrew Christian, though AC's offering of thongs have dwindled recently – the company seems more interested in offering jocks to their customers.
What style underwear do you feel sexiest in?  
I feel sexiest when I wear a smooth satiny thong that was intended for ladies to wear.  My wife loves it when I wear them too!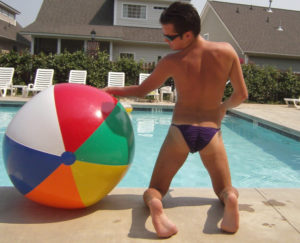 How big is your underwear collection?  My underwear collection is rather small compared to my swimwear collection.  I own about 25 pairs.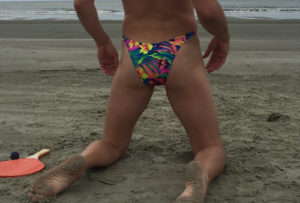 Hope you liked him, and again so sorry for the delay in the posting! I am apparently really behind on some guest bulges! Want to see more of him? Like what you've already seen? Let us know – leave a comment in the comments section and maybe we can lure him back to show off some more!